Team Kodi recently released the new version of its Kore Remote Control Application. Kodi Kore Remote Control v2.5 comes with a bunch of impressive features along with some mandatory improvements. For instance, Kodi Kore Remote Control App v2.5 supports more languages, SoundCloud, and PVR searching. In addition, the new UI has been improved. For those who don't know, there is no other official remote control app from Team Kodi other than Kodi Kore. It has been developed for XMBC and Kodi.
What is New with the Official Kodi Kore v2.5?
Kodi Kore v2.5 is compatible with Android devices and you can download it from Play Store. In addition, you can also download Kodi Kore from GitHub and F-Droid. The Kore v2.5 from Kodi is a major release because it comes with some exceptional improvements and helpful features. Some bugs have been fixed by Kodi developers. Following are some of the highlights of the new Kore v2.5:
The PVR section comes with the search option
You can now sort PVR recording
You can hide watched items from PVR section
Share local files to Kodi by selecting Kore as share target or from the Local Files option in the side menu
You can change Kore's language from Settings
Share from SoundCloud to Kodi
New option for sorting tv shows, movies, and albums, by year
Sunset and Sunrise are a couple of new color themes included in Kodi Kore v2.5
You can now scroll the long titles (in info screens and Now Playing)
When you are playing nothing, Kore v2.5 shows all playlists
Android-style notifications
Added movie ratings to the movie list
Slovak and Korean are two new translation options
Install the Best VPN for Streaming in 2020
Don't forget that most of the video content comes with geo-restrictions. You can't access all video sources because most of the quality sources are accessible within a limited geographical range. For instance, some movies and shows are only accessible from the United States. A Virtual Private Network solves all these problems. You can install a reliable VPN for Kodi before you install any third-party add-on. This extra protective shield will keep you from multiple worries including the legality of accessing certain content and data privacy.
What is a VPN – This is what you need to know!
We have tried various VPN services over the past few years and have come to the conclusion that iPVanish stands out for various good reasons.
Let us take a look at its most promising features:
IPVanish desktop applications for several operating systems, including Linux, macOS, and Windows. The VPN uses its popular CyberSec protects your device from malware threats, by blocking the detected websites that could be harmful and could pose a threat to the users.
IPVanish gives all its amazing services and features for 7 days to its new users for free to access! You can withdraw from the trial in case you are not pleased with the services. All the subscribers for this VPN are allowed to use these services on 6 different devices at a time and are also provided with encrypted proxy extensions for numerous browsers like Chrome and FireFox.
The customer support representatives at IPVanish are helpful and are always there to fix any complications that you are facing with the VPN. This application also has a great feature for virtual tourists, that let you link with servers in up to 60 countries around the globe due to its huge network.
The VPN has a remote server to encrypt all the information from the users and hide the IP addresses so third-party websites cannot access it. IPVanish makes use of military-grade IKEv2 and OpenVPN technologies to encrypt the data of its users to ensure unidentified browsing.
In IPVanish, the SmartPlay technology allows you to access over 400 geo-restricted streaming facilities like Amazon Prime, BBC, Netflix, and many many more. It also has mobile apps for Android TV and for devices running on iOS and Android. Many VPNs have a tendency to face difficulties working with Netflix because it someway cracks the IPs that belong to specific VPNs. As they have many servers, you do not have to be concerned about dealing with this issue with this VPN.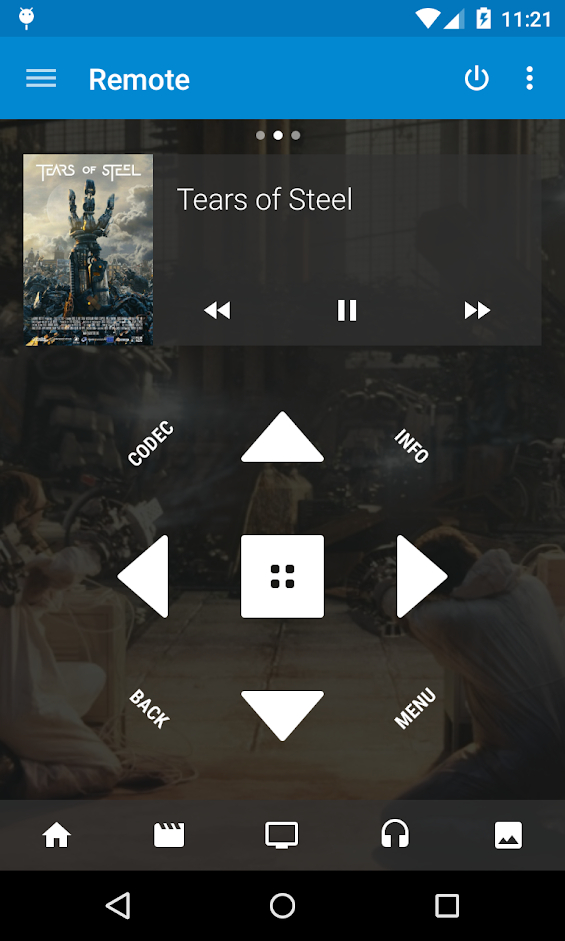 Kodi Kore Remote App is safe
There are various other controller apps that you could use for Kodi but Kore stands out to be the most reliable controller app because it is the only official remote controller app from Kodi. It has been developed to supports XBMC media centers and it works seamlessly with XBMC 12.x (Frodo), Kodi 14.x (Helix) and higher, XBMC 13.x (Gotham). Fetching subtitles is easier with Kodi Kore App. In addition, it brings direct links to entries on IMDb.
Conclusion
Kodi Kore Remote Control Application v2.5 is better than the unofficial alternatives. It is free from any malicious program or malware. Team Kodi takes full responsibility in this regard and works hard on updating the app while fixing bugs and making the new version more convenient and functional.